This week, the Investformation Team had a chance to attend a talk organized by DBS Business Class featuring Ernestine Fu
Silicon Valley's Youngest Venture capitalist
Ernestine Fu is Silicon Valley's youngest venture capitalist. She joined VC firm Alsop Louie Partners as a 20-year-old associate in March 2011, and in August of that year, the then-Stanford undergrad made the cover of Forbes.
Ernestine Fu co-created the social location app, HelloWorld, during a 24-hour hackathon and within two months, she sold it for a seven-figure sum!
When asked about her outlook on Asia and Entrepreneurship here
"The extensive Asian consumer base here already presents growth opportunities", she said, citing mobile messengers and games as areas where Asian developers are ahead of their counterparts in California.


"They have actually been able to not just build a messaging app but also a platform where you have global payments, games and whatnot. You see in Asia this trend, where so far it has been very popular with casual games and the monetisation strategies around that," she said.
"Asia itself can have a very unique entrepreneurship ecosystem. There are pockets of entrepreneurship – how can we connect those different pockets, so that a particular start-up that wants to do something in Asia is not only able to build something with customers in Singapore but also customers in Korea, Japan and whatnot?"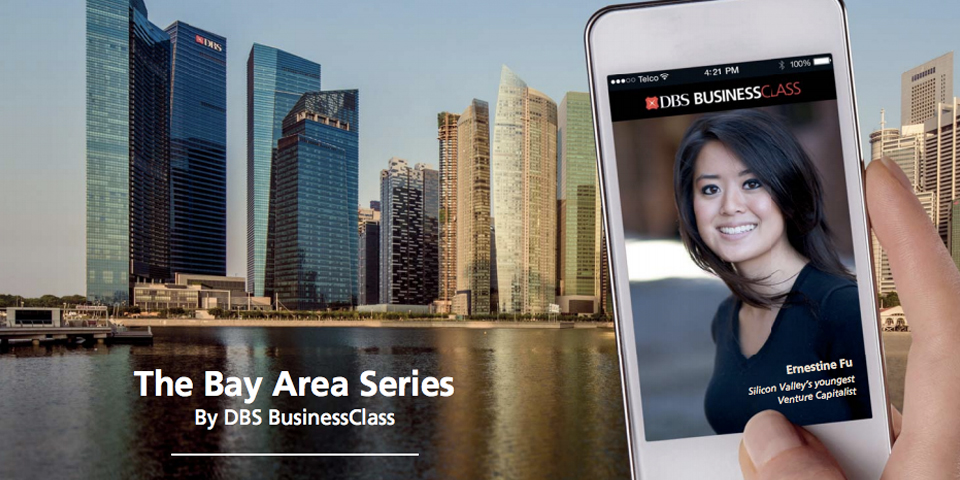 For Singapore, one key challenge is securing funding for later stages of development. "Within Singapore itself, it seems that there are a lot seed investors, a lot of series A investors, but very few for later-stage rounds," she noted. "I think one of the main issues is that it is not just about promoting entrepreneurship but also having a strong foundation or base for entrepreneurship."
Some of the biggest success stories that came out of Silicon Valley and within the United States started in university lab research, she said. "That is one of the key things – when you are actually funding a start-up, does it have a strong base and foundation that can actually enable it to achieve later rounds as well?"
CNA was also there to cover this event.
When asked about her view on big trends in 2015 and the next 2 years

Ernestine answered by showing off her smart watch, the moto 360 smartwatch. "What im really excited about 2015 is that i think that wearables will be huge." "Being disruptive in the wearable space is not about having a phone with a longer battery life, that kind of technology has already been there but creating products on top of the wearable devices that are user friendly and help consumers enjoy this things. We've seen that already happening with alot of fashion companies already partnering with technological companies." She said, "I think its the year where we will see beautiful wearable apps and devices, i think thats incredibly exciting." "Crowdfunding platforms such as kickstrter has made it extremely easy to make a hardware company which has been difficult to do so in the past." She cited Orculus riff which started on kickstarter and sold for $2Billion dollars earlier this year.
When asked about her secrets to success

"I think being Ernest and Passionate about what youre doing is really important. If you're not excited to wake up and do something than it's hard to deal with it, its hard to wake up, its hard to be motivated. I think that would make or break a company or anything in life." "I tink another key component is being able to connect the different dots on what you're doing, like for example, my work in social entrepreneurship does help my work in venture capital."
PS* You're just a mindset away from everything you ever dream about.